Background
Nigeria, the most populous country in Africa, has an enormous need for a better-trained health workforce. The need is particularly striking in the realm of newborn care. Nigeria
has
one of the highest rates of child mortality in the world
, and the government
reports
that
just 1.8% of primary health centers (PHCs) in Nigeria have enough skilled birth attendants on staff
. I traveled to Nigeria in July to assess the possibility of setting up a pilot of our first course on essential practices in newborn care. HealthLearn's strategy is to collaborate closely with government and NGOs to deliver our training, so I focused the trip on building connections with local organizations and key officials in government.
First stop - Abuja
I started in the capital, Abuja. I had introductory visits with the two main national entities with oversight of activities that occur in PHCs - the Federal Ministry of Health (FMOH) and the National Primary Health Care Development Agency (NPHCDA). I met the newborn care unit at FMOH, introduced the project, and scheduled a follow-up meeting to review our newborn care course and check its alignment with national guidelines. I next met with teams at NPHCDA, including the Community Health Influencers and Promoters team and the National Emergency Maternal and Child Health Intervention Center team. We discussed our plans to run a small-scale feasibility pilot and share back updates as soon as the pilot is completed. I also met with the
Thriving Up Initiative
, a local NGO that promotes better newborn care in the capital region. Together, we visited the leadership at the Abuja Municipal Area Council local government area to discuss our first pilot.

Meeting with the National Emergency Maternal and Child Health Intervention Center, the team that oversees newborn care at NPHCDA.
Next stop: Kano
I next traveled to Kano, in the North West geopolitical zone. Kano is the most populous state in Nigeria, with about as many inhabitants as South Sudan. Though it is making progress, Kano has persistently high rates of infant and child mortality, so there is an ongoing need to improve the quality of care in the public health system. In Kano, I was hosted by the local nonprofit
iDevPro
. I had an opportunity to learn more about all of their great work in health and education, including their incredible partnership with Family Empowerment Media. Together, we visited the Kano State Primary Health Care Management Board and had a productive discussion about how we might collaborate on a first pilot in Kano state. We also visited a PHC in Kano, where we learned more about the services provided at the PHC, the staff supporting the PHC, the training of those staff, and where there might be opportunities for improvement. We also visited a local traditional leader where we learned more about the needs of his community and the factors that contribute to trust in the public health system.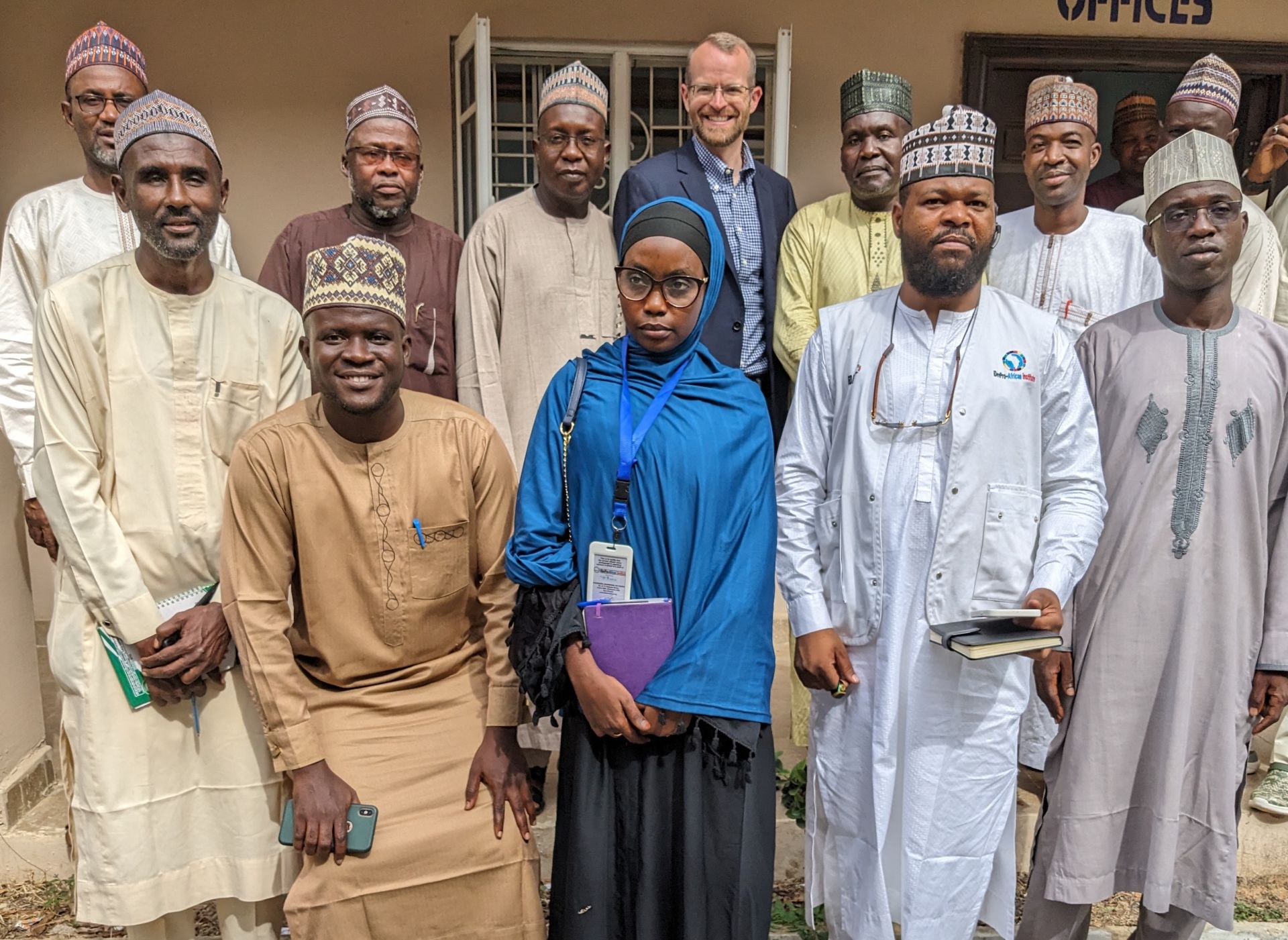 Meeting with directors of the Kano State Primary Health Care Management Board and representatives from iDevPro.
Demo day in Gombe
My last site trip visit outside of Abuja was to Gombe, which sits in the North East geopolitical zone. Gombe is a relatively small state that has not attracted as much attention from NGOs and humanitarian organizations as other states in the region. In Gombe, I was hosted by
The Taimaka Project
. Taimaka runs a community management of malnutrition program that provides services in close collaboration with the government in Gombe State. Together, we met with the primary care Director at the State Primary Health Care Development Agency to discuss a pilot of HealthLearn's newborn care course. We next traveled to a PHC where Taimaka implements its malnutrition programs. We toured their facilities, learned more about their staffing model, and developed a better understanding of their training and health workforce needs.
While in Gombe, we also ran a demo of a module of the newborn care course. About 10 health workers and staff tried out the course and shared their feedback. Those who took the training highlighted the things that they learned and were keen to take the full course. The deputy in-charge of the facility was particularly eager to have all of his staff use the course to update their knowledge. We also learned some valuable lessons by identifying barriers to access and technical issues that can crop up on smartphones that have older operating systems and browsers.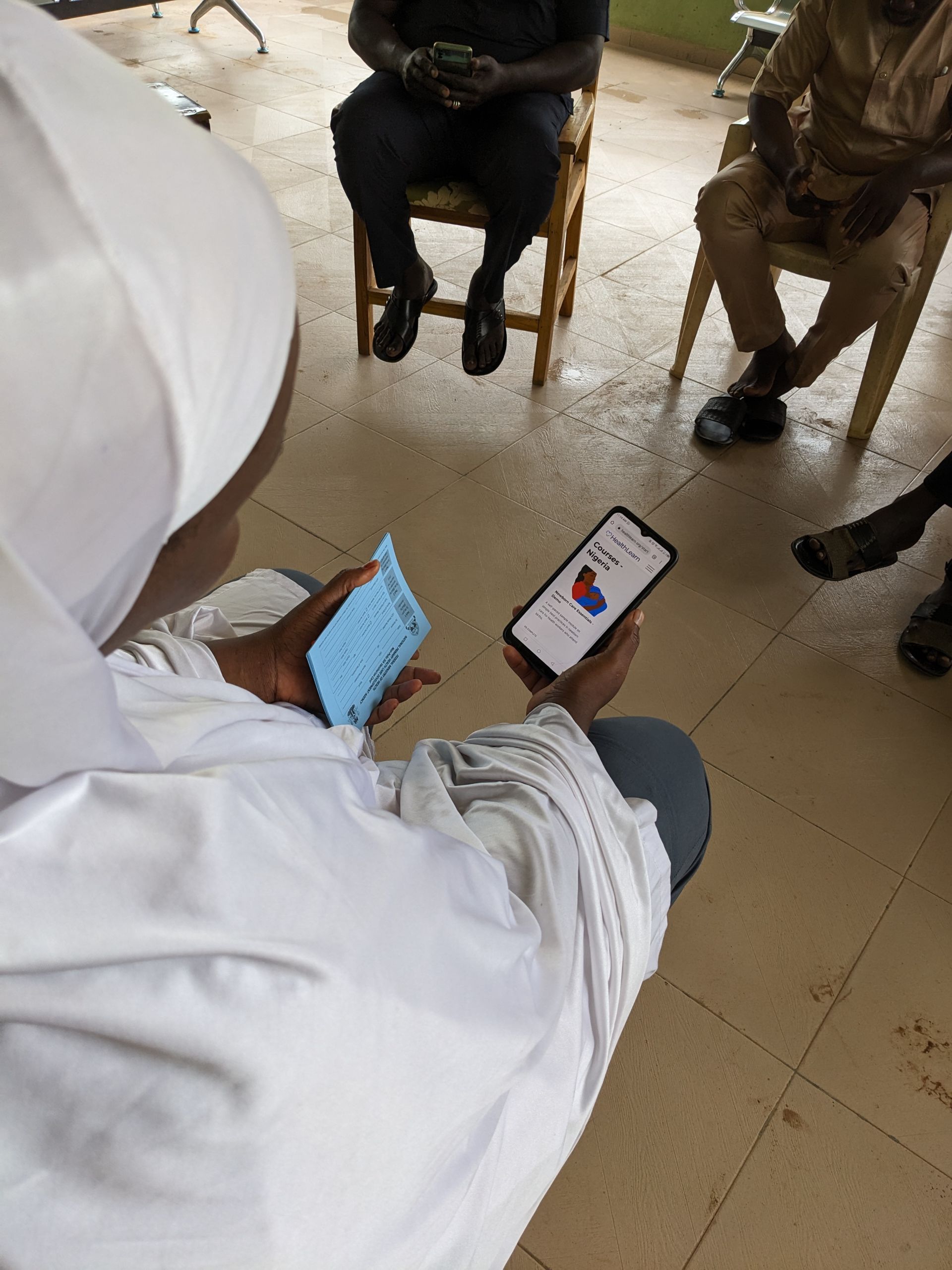 A health worker in Gombe state tries out the course on her mobile phone.
Back to Abuja
I returned to Abuja for the content validation workshop with the Newborn Care Unit at the FMOH. In a hybrid in-person/virtual meeting, we reviewed the course content and determined revisions needed to align with Nigeria's latest guidelines. We expect to finalize the content of the course very soon. I also had a chance to meet teams at the Nigeria country offices of the Clinton Health Access Initiative and Resolve to Save Lives. Last, but not least, I caught up with one of HealthLearn's expert advisors, Dr. Obinna Orjingene, who has reviewed all of our course content and provided crucial guidance on navigating the health system in Nigeria.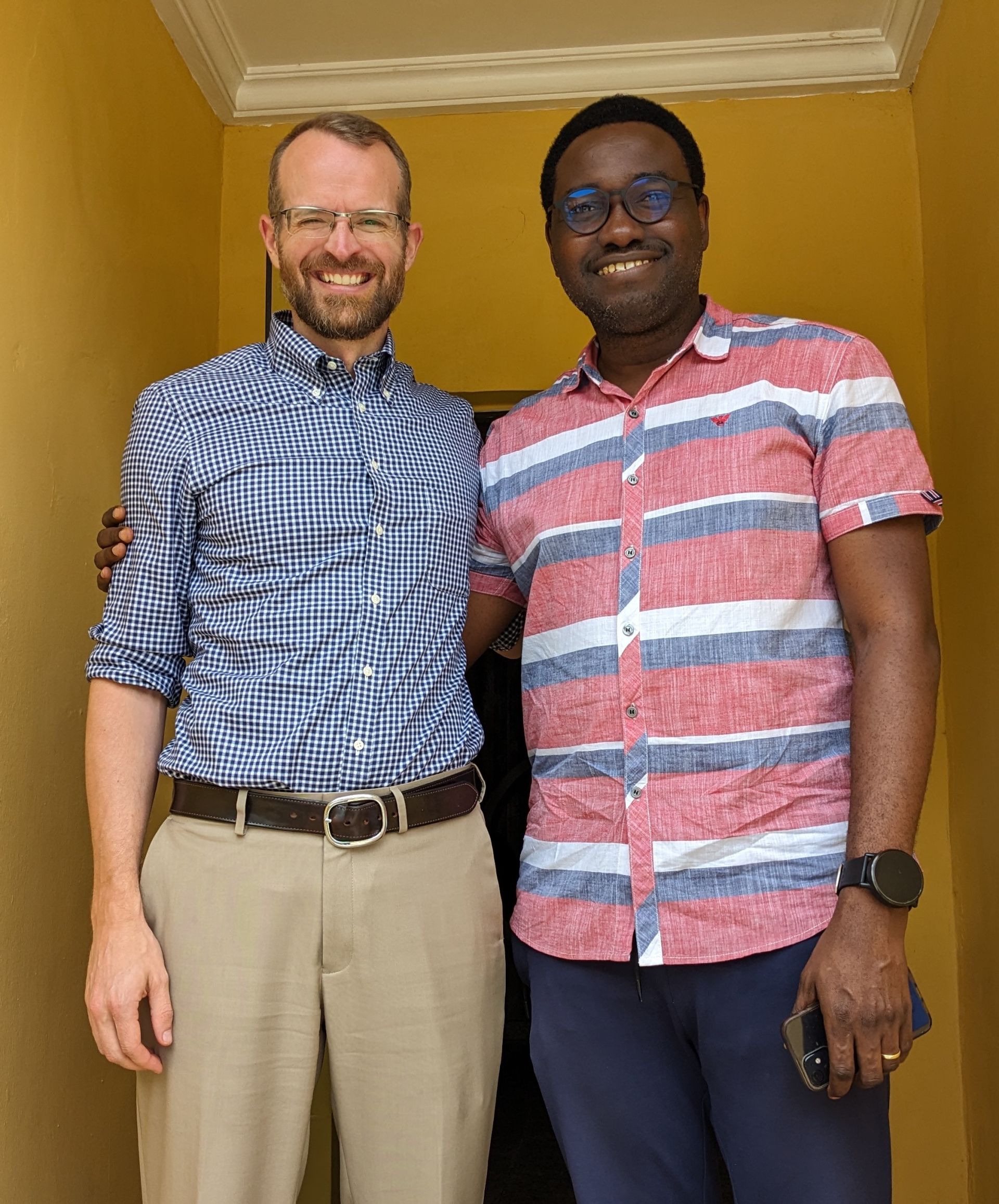 Catching up with HealthLearn's advisor, Dr. Obinna Orjingene.
What's next
In the next few weeks, we'll focus on building off of momentum from this trip and incorporating lessons learned. We plan to make targeted updates to the course based on feedback from FMOH and the health workers who tested out the course. We'll also be finalizing our agreements with local partners and relevant government authorities, with the goal of enrolling a few hundred health workers in a feasibility pilot in the coming months. More to come soon!
Volunteers and partners
If you want to volunteer or partner with us, please send us an email!
[email protected]